Yukkuri Hina

Nickname(s)

Hinakuri

Based on

Accessories

Dark red ribbon tied to hair

Filling

Carob

Bodied?

Yes

Special Abilities

Spins around rapidly, generates bad luck around it.

Rarity

Rare
An unlucky yukkuri seen around Youkai Mountain or places with a large number of Yukkuri Nitoris.
Often seen near the Youkai Forest, Yukkuri Hinas love to spin. They are more dangerous to people than the average Yukkuri, but less than Unyukkuris. Being near a Yukkuri Hina brings one horrible luck unless one leaves the forest. They chase away a lot of other yukkuri as well.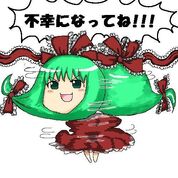 Relationships to other Yukkuris
Edit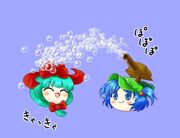 Either due to their bad luck or their constant spinning, they are rarely seen with other yukkuris. Nitori yukkuris are an exception and are seen with Hinas on occasions though only when Nitori is in a good mood. Hinas still avoid "creepy" Nitoris. 
Spin, Hina, spin! Hina loves to spin!
Rumors & Miscellaneous
Edit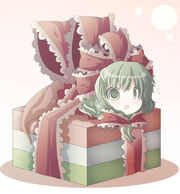 Their ribbons are made of cherry-flavored taffy.
There is a 1 in 3 chance that the Hina Yukkuri will take your bad luck instead of giving it to you.